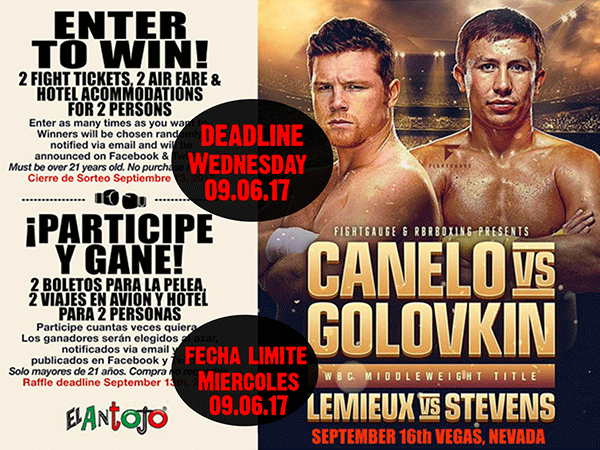 CONGRATS TO OUR WINNERS!

2 FIGHT TICKETS, 2 ROUND TRIP AIR FARE & MGM GRAND-LAS VEGAS NIGHT HOTEL ACOMMODATIONS FOR 2 PERSONS

Raffle tickets available at all our locations. Enter as many times as you want to. Winners will be chosen randomly, notified via email and will be announced on Facebook & Twitter. Winners will also get El Antojo Winner t-shirts to wear in las Vegas! Must be over 21 years old. Tickets are not transferable. No purchase necessary. Deadline to enter September 06th, 2017

UPDATE: We've got our winners!
We have winners in our draw for Canelos vs Golovkin fight contest.
Congratulations!
Isidro Campos Ramirez & Marina Rangel
Tenemos a los ganadores del sorteo para la pelea de Canelo vs Golovkin,
felicidades!
Isidro Campos Ramirez y Marina Rangel.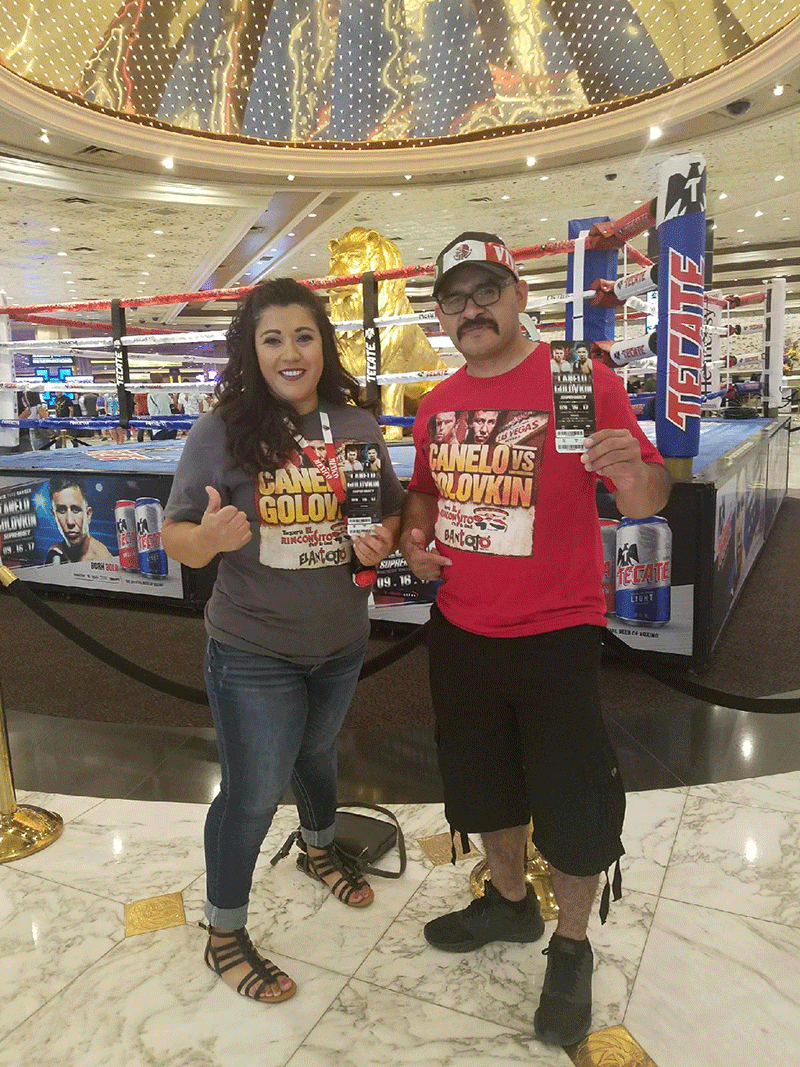 ---------------------------------------------------------------

¡PARTICIPE Y GANE GRAN PAQUETE PARA DOS!
2 BOLETOS PARA LA PELEA, 2 VIAJES REDONDOS EN AVION
Y ESTANCIA EN EL MGM GRAND-LAS VEGAS HOTEL PARA 2 PERSONAS
Boletos de sorteo en todas nuestras localidades.
Participe cuantas veces quiera. Los ganadores serán elegidos al azar,notificados via email y publicados en Facebook y Twitter. ¡Los Ganadores también recibirán Camisetas del Antojo para usar en las Vegas!Solo mayores de 21 años. Compra no requerida. Cierre de Sorteo Septiembre 06, 2017