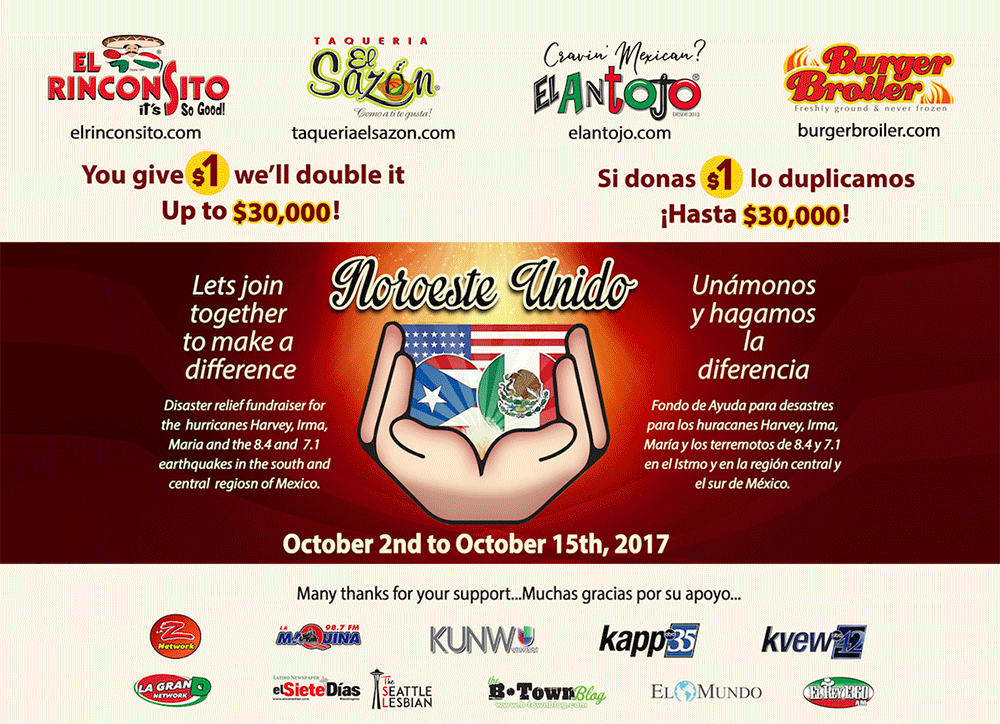 Update: Noroeste Unido Final Count $47,200
01-02-2018

From our beautiful region of the Pacific Northwest, and counting on the good heart of our employees, friends and customers, we began our campaign, Noroeste Unido, to raise funds to help those affected by hurricanes Harvey, Irma and Maria and the earthquakes in the Isthmus and the Central and South regions of Mexico, and we promised to double the donations given by our customers, dollar by dollar. Our goal was to double the total amount up to $30,000 dollars. On October 15th, 2017 we finalized our campaign, we were able to gather $26,600 dollars, which we doubled to a final total of $47,200 dollars that we decided to share in equal amounts among three areas in Morelos, Oaxaca and Chiapas. And in the USA to Florida, Houston and the Island of Puerto Rico.
After a careful selection process, we decided that the funds would go to:
MORELOS
Plan de Ayuda Real, an agency which was able to double our donation y ended up with a max. of $165,000 pesos, equivalent to $7,866 dollars and 66 cents. They work on sustainable rebuilding projects with CEDATU, an agency of the Mexican government. The areas of Tétela del Volcán and other towns around Jojutla, Morelos will be the beneficiaries of the rebuilding efforts:


https://www.facebook.com/PlandeAyudaReal/
https://www.plandeayuda
CHIAPAS
The organization, Cántaro Azul, seeks to generate integral strategies for sustainable reconstruction in the communities affected by the earthquake on the coast of Chiapas, mostly in the municipalities of Tonalá, locality of Paredón, Pijijiapan, localities of Gustavo López and Nueva Urbina, and San Cristobal de las Casas, where there was also damage to buildings. They will canalize resources to rebuilding housing, including sanitation and water quality improvement alongside local allies. Here is their message:


OAXACA
Cultural Center BACAANDA will be responsible of administrating the donated funds. They are working in San Mateo del Mar, in Juchitán and surrounding areas to this head of municipality such as Ixtepec, Ixtaltepec and Unión Hidalgo, all of them in the Isthmus of Tehuantepec. This project seeks to help improve quality of life of the population, creating a healthy environment, improving conditions for successful development and decreasing environmental risks.
TEXAS
Rebuilding Houston Together has focused its projects to the Independence Heights Neighborhood, in Huston, TX. They help rebuild housing specifically for the Elderly, low-income people, veterans and people with disabilities. The reconstruction work is done by volunteers. We decided to donated construction materials based on a list they gave us. Besides donating the $7,866 dollars and 66 cents, we were also able to donate an extra $860 thanks to purchasing wholesale materials at Home Depot.
FLORIDA
We donated the amount of $7,866 dollars and 66 cents to United Way Miami Bay. Since 1924, they have work together with other individuals and organizations; among them, they found a donor who doubled our donation, so they ended up with a final sum of $15,733 dollars and 32 cents.
Redland Christian Migrant Association will be responsible to use the funds in the city of Homestead, in South Miami, which consists mainly of a large population of low-income field workers. This is a message from them:
https://www.facebook.com/UnitedWayMiami/
Once again, thanks to United Way Miami Bay, we were able to double our donation. Fondos Unidos de Puerto Rico will be responsible of the administration of $15,733 dollars and 32 cents. They have various projects, one of them helps the Elderly and another that called our attention is called Alumbra Puerto Rico (Illuminating Puerto Rico), an initiative to bring solar panels to Vega Alta, Puerto Rico. This is a message they sent us:
Resume of our Campaing Efforts English Version:
Resúmen de NUestra Campa˜ã Noroeste Unido en español
Update: Noroeste Unido Final Count $47,200
10-16-2017
During these past two weeks, without missing a step, all our employees as well as the corporate office personnel, got together to organize an efficient fundraiser that ran smoothly within our usual fast-paced and busy days at all our locations. We collected funds from our awesome clients and friends, welcoming each and every dollar that was given with a loving heart. All with only one purpose in mind, to provide relief to the needs and heartache that our neighbors, family and friends in Mexico, in the south United States and Puerto Rico are going thru after the natural catastrophes of September 2017.
This campaign began with a total of $1152 by the end of the first day, which was Monday October 2nd, the amount collected between what was donated by our clients and out matching funds. By the end of the weekend before last we had $24,028. Today Monday, October 16th, the campaign is officially over and our collective total is 47,200!
We are aware that our efforts might be small as the needs are enormous, but we are still so thankful to all of you who made it possible, including all the media outlets that helped us spread the word. We also want to encourage everybody to keep on giving however you can, as these tragedies will not be solved in the short term, and unfortunately, others might come.
The next phase of our campaign is to arrange for the delivery of all the funds collected. In the following days, we will share photos, videos, testimonials and all documents to show our efforts are not in vain. So, please visit our sites and social media pages to keep up to date on how we're utilizing the collected funds.
As we stated during our campaign in 2013, we are so moved, so proud and so thankful to live in a beautiful state and of its people that hold such high civic stature and hearts of gold. We know once again that we can count on our customers, friends and employees to thru when help is needed and will forever be grateful for that.
United we made a difference!


Ulttima Noticia: Noroeste Unido Cuenta Final t $47,200
10-16-2017
Durante las últimas dos semanas y sin perder el paso, nuestros empleados y el personal de la oficina corporativa, organizaron una campaña de recaudación de fondos la cual se llevó a cabo exitosamente sin perturbar los rápidos y ocupados horarios que se viven a diario en todas nuestras localidades. Recolectamos fondos de nuestros estupendos clientes y amigos, quien con todo el corazón dieron dólar a dólar con un solo propósito en mente, aliviar las necesidades y la angustia que nuestros vecinos en México, en el sur de Estados Unidos y en Puerto Rico que están pasando después de las catástrofes naturales de septiembre del 2017.
Al final de primer día de nuestra campaña, el lunes 2 de octubre, llegamos a una cifra de $1152, entre lo que fue donado por nuestros clientes y lo que igualó la empresa. Para el fin de la semana antepasada, ya habían subido a $24,028 los fondos recaudados. Y hoy lunes 16 de octubre, al final de nuestra campaña, el gran total es de ¡$47,200!
Sabemos que nuestros esfuerzos podrán parecer mínimos frente a la enormidad de las necesidades, aun así, estamos sumamente agradecidos con todos los que lo han hecho posible, incluyendo a los medios que nos ayudaron a pasar la voz.
Urgimos a todos a que continúen ayudando como puedan, ya que estas tragedias no se resolverán a corto plazo, y desafortunadamente otras pueden venir en camino.
La siguiente fase de nuestra campaña es organizar la entrega de fondos a cada región. En estos días estaremos compartiendo con el público, fotos, testimoniales, videos y documentos que confirmen y comprueben que nuestros esfuerzos no han sido en vano.
Manténgase al tanto de las actualizaciones de la campaña en nuestros sitios web y páginas en las redes sociales.
Como lo dijimos en el año 2013 después de nuestra campaña de recaudación, estamos muy conmovidos, orgullosos y agradecidos de vivir en este estado tan hermoso con gente que tiene un sentido cívico tan alto y un corazón de oro. Una vez más sabemos que podemos contar con nuestros clientes, amigos y empleados en que extenderán su mano amiga cuando la ayuda sea solicitada.
¡Unidos hicimos la diferencia!
Unámonos y hagamos la diferencia
Fondo de Ayuda para desastres para los huracanes Harvey, Irma, María y los terremotos de 8.4 y 7.1 en el Istmo y en la región central y el sur de México.
Si donas $1 lo duplicamos ¡Hasta $30,000!
A partir de 2 de OCTUBRE y hasta el15 de OCTUBRE, visítanos en cualquier localidad del Rinconsito, El Antojo, El Sazón o Burger Broiler para contribuir a nuestra campaña para ayudar a las zonas más afectadas por las devastadoras catástrofes naturales en Texas, Florida, Puerto Rico y México.
Nuestra meta es recaudar por lo menos $30,000 dólares de nuestros clientes y amigos, cifra que nosotros con gusto doblaremos hasta juntos alcanzar $60,000. Mantente informado en el progreso de nuestro esfuerzo día a día visitando nuestros sitios en el internet, Facebook, Twiter y también Instagram:


REGLAS: Donación mínima por persona $1. No hay límite máximo de donación por persona. La máxima donación de las Empresas El Rinconsito, El Antojo, El Sazón y Burger Broiler en conjunto no será más de $30,000. No hay reembolsos. No hay compra requerida. La fecha de distribución de fondos, su destino y agencias beneficiadas serán anunciadas en los medios sociales y nuestros sitios de web. Fechas de recaudación 2 de Octubre al 15 de Octubre, 2017.

Lets join together to make a difference
Disaster relief fundraiser for the
hurricanes Harvey, Irma, Maria and the 8.4 and

7.1 earthquakes in the south and central regions of Mexico.
You give $1 and we'll double it, Up to $30,000!
Starting OCTOBER 2nd to OCTOBER 15th, stop by any El Rinconsito, El Antojo, El Sazón or Burger Broiler locations and contribute to our campaign to aid those affected by the recent devastating natural disasters in Texas, Florida, Puerto Rico and Mexico.
Our goal is to raise at least $30,000 from our clients and friends, amount that we will happily match to come up with a grand total of $60,000.
Keep informed on the progress of our efforts every day, by visiting our websites, Facebook, Twitter and Instragram:
elantojo.com
elrinconsito.com
taqueriaelsazon.com
burgerbroiler.com
Many thanks for your support....Muchas Gracias pos su apoyo:
KUNW Univision Yakima
KAPP ABC Yakima
KVEW ABC Tri Cities
The Seattle Lesbian
B-Town Blog
Siete Días
El Mundo
El Rey 1360AM
La Zeta Network
La Grande Network
La Máquina 98.7FM
Rules: Minimum individual donation $1. There is no maximum limit for individual donations. The maximum donation of El Rinconsito, El Antojo, El Sazon y Burger Broiler, collectively shall not exceed $30,000. There are no donation reimburstments. No purchase necessary. Date and distribution of funds, final destiny and chosen agencies will be shared with everybody in our websites and social media. Fundraiser dates October 2nd to October 15th, 2017
Got Questions? We've Got Answers
Email us: This email address is being protected from spambots. You need JavaScript enabled to view it.
Send us an Inbox Message at our Facebook page: https://www.facebook.com/AntojoMG/
Tiene Preguntas? Tenemos las Respuestas
Email: This email address is being protected from spambots. You need JavaScript enabled to view it.
Mande un mensaje a nuestro inbox en Facebook: https://www.facebook.com/AntojoMG/


Lo logramos antes ¡Juntos, podremos otra vez!
En el 2013 tuvimos una exitosa campaña de recaudación de fondos, cuando los huracanes, Manuel e Ingrid, devastaron el centro y sur de México. Aquella fue una colaboración en conjunto de Taquería El Rinconsito y Taquería El Antojo, en la cual, nos comprometimos a igualar las donaciones que nuestros clientes hacían y logramos recaudar un total de $33,906.
He aquí un resumen de lo que logramos hacer en aquella ocasión:
https://www.youtube.com/watch?v=JxA9luJO0ss

We did it before. Together we can do it again!
In 2013 we had a similar fundraiser, when hurricanes, Manuel and Ingrid, devastated central and south Mexico. On that occasion, Taquería El Rinconsito together with Taquería El Antojo, committed ourselves to match donations that customers and friends contributed; successfully raising together a grand total of $33,906 dollars.
Here is a summary of what we achieved in 2013